Fans of popular singer Bruce Springsteen were taken by a surprise when the former US First Lady Michelle Obama jetted all the way to Barcelona for a surprise stint as The Boss's backing singer via DailyMail.
Ms. Obama, who also played tambourine during the hit song Glory Days, took to the stage on Friday with Steven Spielberg's actress wife Kate Capshaw.
The pair shared a microphone with Patti Scialfa, Springsteen's wife and E Street bandmate. One fan said:
"It was the last thing anyone expected, to see Michelle up there. What a surprise! A woman of many talents. The crowd went nuts."
The Obamas have been close friends with Springsteen and his wife for years.
Springsteen, who is currently touring Europe, met Barack on the presidential campaign trail in 2008, and played at his fundraisers.  The musician was awarded the Presidential Medal of Freedom in 2016, and the pair co-hosted a podcast, Renegades: Born In The USA, in 2021. Springsteen opposed his friend's successor, Donald Trump, playing his hit Born In The USA at political rallies.
The Obamas flew to Barcelona on Thursday before joining the Spielbergs and Springsteens at the five-star Palace Hotel's Amar restaurant. One waiter posted a picture of himself with the guests on Instagram with the caption: 'Pleasures that this job brings you!'
Before her on-stage appearance, the former First Lady toured some of Barcelona's landmarks with her husband, including Gaudi's Sagrada Familia.
The employees at Amar restaurant in Barcelona were left in shock on Thursday night as the trio walked in. Chef Rafa Zafra claimed that renowned Spanish-American restaurant Jose Andres had recommended the restaurant to them.
The chef stated that Mr. Andres had informed the 44th President of the US that a reservation at the restaurant was essential. He further added that a reservation was just hours prior to their visit.
"Jose Andres called me and told me that it was a very important table, but that we should please not say anything. And of course, I began to investigate and saw that Obama was coming, that Bruce had a concert.." Mr Zafra told Cadena SER, as per the outlet.
Check Also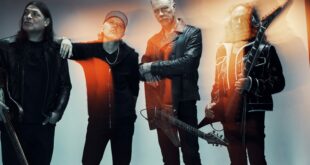 Over the years, Metallica's Lars Ulrich has faced criticism regarding his drumming skills, often becoming …